Great ideas come in all sorts of sizes and packages. From big physical innovations like robots, smaller esoteric functions like cartonization, or unique custom mobile applications – they can all bring value to your organization. LUCA, or Leap Unified Composable Architecture, brings a Feature-First fabric for including virtually any sort of technology – including composable UI/UX applications. Ironically, the vendors we used to call "Best-of-breed Systems", feel old and stodgy compared to the innovation going on around them. Digital transformation, robotics, software robots (RPAs), innovative little services or just great ideas your implementation staff might have – needn't wait for some future release to see the light of day.
LUCA changes the way to think about "Best-of-Breed" from entire systems to individual elements or what we think of as Best-of-Breed Features. LUCA promotes this idea by creating a framework for incorporating the best features (on-prem, cloud, in-house developed, purchased, or subscription) in ways Integration frameworks cannot. While especially tuned for the monumental challenges of Warehouse and other Execution systems, where performance, concurrency and scalability are critical, it can be used to expose the value of virtually any system in new ways.
Warehouse Systems (WMS, WES, WCS) space, or what we call WxS have a real need for speed and scalability. LUCA brings Composable UI/UX, Configurable Execution Activity Streams, and an Always-Integrating Services Framework together into one Ultimate WxS Execution Platform. But speed and scalability are not the only challenges to WxS providers, there is a new world of robots, goods-to-person and even faster automation. LUCA's Features First approach enables the best features from any vendor to co-exist on the warehouse floor under a single platform.
LUCA at a High Level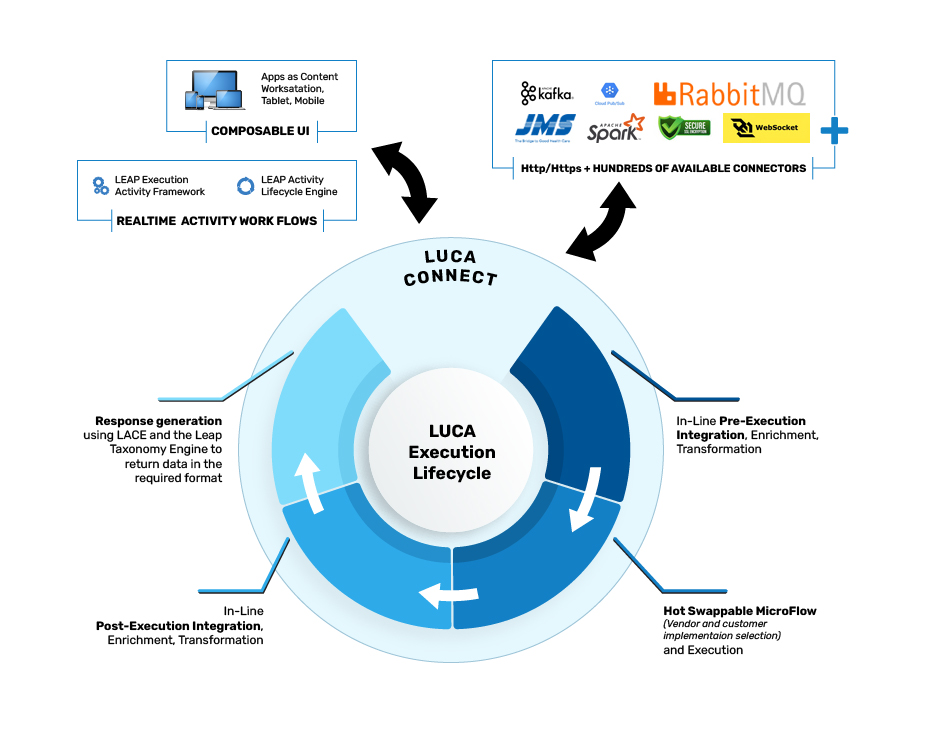 (Tap to Enlarge)
LUCA is a unified Execution platform that includes:
Content-driven UI/UX – meaning you create screens with a drag-and-drop editor, export them as content and run them as if they were native Android Apps.
Execution Activity Streams (EAS) – allow you to create a high-level Linga Franca to communicate with, and stream to, many different systems.
Dozens of in-line connectors – develop as an http api, but configure it to fire from a JMS queue or a Kafka subscriber.
Fast, in-line, transformations – add transformations 'around' your API calls via configuation. By running these transformations in-line, supporting configurations before and after your implementation, LUCA solves most integration problems without code.

Hot-Swappable Implementations permit in-line component switching. We used to call this ability Vendor Implementation because we, most often, use it to swap implementations when we are 'talking' to different Vendors (in our case WES and Parcel venders for example).

Codeless taxonomy and outbound transformation – we feel like developers don't need to spend their precious time changing variable names. LUCA also peforms in-line result building via Leap Projections, meaning codeless integrations.
One of the big questions we get about LUCA is – "Is it just another Boomi* or MuleSoft* or even MOCA?"
This simple answer is of course not. LUCA is not a generic iPaaS platform or a redesign of the 30-year-old MOCA architecture (popular though it is). LUCA is more akin to the Salesforce Platform* but for Warehouse Execution and other situations where you want to expose the value of Best-of-Breed Features directly into your organization's application infrastructure.